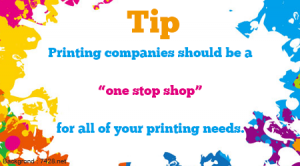 So you want to open a printing business in New York City or another city. Well, there are some things you need to consider before becoming a printer in NYC or elsewhere.
First, you should know that there are a lot of printing businesses in New York City. NYC isn't just the capital of the world when it comes to food, fashion, tourism and theatre, NYC is home to a large number of printing business and if you want to become one of them, you will need to stand out in the crowd.
Next, you must be able to provide a number of services. Many printers in NYC are a "one stop shop" for all of your printing needs. They can provide printing services on business cards, posters, even mugs and t-shirts. So if your customers know that they don't have to rely on your company for one kind of printing and another company for a different kind of service, they'll want to come back to your printing company over and over again.
In the past, printing was done on a press or a metal plate. This method took a long time and turnaround wasn't as quick. Now, everything is done digitally so you'll need to be able to handle your customers' requests by providing them with the best digital work possible. In some cases, printers provide both old and new technology to give their customers the best all around service.
Another big key to becoming successful in this industry is to scope out the competition. See what kind of equipment they use and see what you need to use in order to make your printing business a success. Like it was mentioned in the opening of the article, being a printer in NYC is a competitive business so be sure you know what the others are doing and try to do it better.
NYC is fast paced and your printing business should also be fast. You want your customers to know that you can be counted on to provide with quick and reliable service. Another important service you should provide your customers with is the ability to view proofs of your work. New York is home to many big corporations. Landing just one of them will be a big boost for your business.
When becoming a printer in NYC you should provide bulk printing for bigger companies but also remember to cater to smaller businesses as well (Superior Resource) is a good example. Having an array of services for business of all sizes will help grow your company and help you to succeed.
Stacey Gotsulias writes for a variety of blogs.