Domain name owners are required to add their contact information to the public WHOIS database. If you own a website, anyone can use these records to obtain your full name, phone number, email address and mailing address. However, you may choose to conceal this information by paying a small annual fee to use a domain privacy service.
Explanation
A domain privacy service simply replaces your personal or business contact information with the domain registrar's details. The data they provide is not false, so this technique complies with the WHOIS database rules. Nearly one out of five registrants use domain privacy services, according to the Internet Corporation for Assigned Names and Numbers.
Advantages
Private domain registration offers many valuable benefits. It may even prevent you from being targeted by criminals. By using this service, you can avoid stalking, harassment and death threats. This is particularly important for individuals who run websites from their homes or write opinion articles about controversial issues.
Domain privacy reduces the risk of identity theft as well. This crime can drain your bank account and ruin your credit record. Public WHOIS records provide a major source of personal information that identity thieves can use. They also make it easier for Internet criminals to target you with a range of other scams and "phishing" schemes.
Another major benefit of private registration is that it minimizes phone, mail and email solicitations. Some marketers use the WHOIS database as a list of potential customers, especially if they sell services to webmasters. Solicitations waste time by distracting you and your staff. They also tie up phone lines and squander Internet bandwidth.
Even if your business normally makes some of its contact information public, there are probably certain communication methods you prefer over others. Domain privacy allows you to select the contact details you want to put online. Additionally, you can also choose to minimize spam by using a Web-based contact form rather than posting a specific email address.
Limitations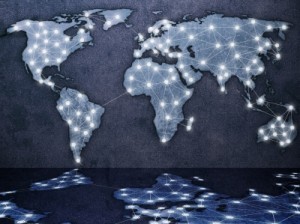 Despite all of these benefits, it isn't always possible to use a domain privacy service. This practice may be prohibited if you have a regional domain name extension, such as .ca or .eu. The Electronic Privacy Information Center reports that the United States government stopped allowing people to privately register .us domains in 2005.
An alternative way to maintain privacy is to obtain a post office box and a separate voice mail number. However, this option costs many times more than a private registration service. While opting for a private mailing address or second phone line could greatly reduce the risk of harassment, stalking and identity theft, this method will not prevent you from receiving unwanted commercial solicitations.
If you decide that domain privacy is right for you, be sure to find a registrar that offers this service before you register a domain name. Some companies call it "WhoisGuard" or "private registration." Regardless of its title, domain privacy is sold as an inexpensive add-on. You might even be able to obtain a discount by purchasing this service for multiple years or for different domain names.